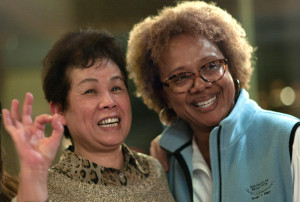 Paula Williams Madison is the epitome of success: Vassar College grad, award-winning journalist, former TV executive, entrepreneur, community activist. But the Harlem native was also driven toward another goal — finding more about the Chinese grandfather she never knew.
Madison, 62, details her multicultural family odyssey in her new book, Finding Samuel Lowe, due April 14. A documentary by the same name is making its rounds at film festivals, including a recent screening at the International Black History Month celebration in Hong Kong. Madison, along with more than 30 Chinese family members, attended the showing.
At film screenings, she meets "relatives who we never knew existed. We find some who are mixed with black, just like us. That's the most spectacular part of it all."
Madison's journey to find her grandfather, Samuel Lowe, has been spectacular, too. Soon after retiring from NBCUniversal in 2011, she reached out to her family in Jamaica where her half-black, half-Chinese mother, Nell, was born.
Many Chinese came to Jamaica as laborers in the late 19th and early 20th centuries. Most were from the Hakka people who lived in southern China, a group known as migrants and adventurers.