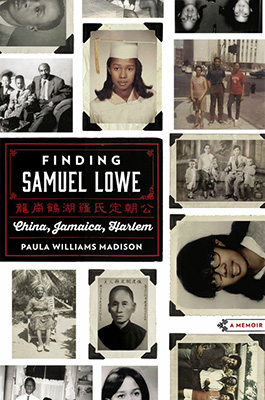 Your last family reunion was a big one.
It was fun, too, and eye-opening. You hadn't really stopped to think about how many people are related to you until you saw aunts you hadn't seen in decades and met cousins you didn't even know you had.
That one had Grandma's eyes. This one has the distinctive family laugh. And, as in the new book "Finding Samuel Lowe" by Paula Williams Madison, there were many more surprises to come.
Growing up on the roughest block in Harlem in the early 1960s, Paula Williams Madison knew her family was unusual, starting with her Chinese-Jamaican mother. Nell Vera Lowe Williams was fierce and fearless – she once held a meat cleaver to a man who'd threatened her son – but she was also quietly sentimental. To Nell, nothing was more important than family and she insisted that her three children remain close, maybe because Nell had no parents or known siblings of her own.
Though they were estranged, Madison knew her mother and dad loved her. That, in fact, was a repeated theme she heard as a child: Nell often said that Madison was lucky to know a father's love. On that, Nell didn't elaborate much and she rarely discussed her childhood, leading Madison to wonder about her mother's father…
Over time, she learned that Samuel Lowe had left China for Jamaica in the early 1900s and later became a shopkeeper, having little-to-no contact with his "outside child" before returning to China in 1933, when Nell was fifteen. This, perhaps, caused the "persistent and painful sense of loss" Madison felt her entire life: her mother's hurt had become hers. She imagined finding her grandfather.
In late 2011, she finally seized the chance.
"Samuel Lowe" was too common a name for online searches, but querying elderly relatives offered clues and a long-lost cousin who informed Madison about an "alumni reunion" in Toronto. Someone else led her to a contact who knew some Lowes in China.
One of them was Samuel Lowe's son.
There's a lot to like about "Finding Samuel Lowe." There's a lot to learn here, too, but first, you'll have to ready yourself.
Be prepared, for example, not to fret over things that are hard to follow in this book. Author Paula Williams Martin includes a lengthy and highly-convoluted family tree that's often "duppyproofed" with false names and birthdates. Seriously, the Book of Genesis is easier to follow than those sections; you're best off just accepting that it mightn't make sense.
Get past that, though, ignore the repetition, and you'll find a fascinating family memoir that peeks inside the life of a 1960s Harlem kid, takes readers back a century to Jamaica, and then reads like a detective story. In those parts, pay attention: Martin writes with such passion that it's a treat to see how finding her grandfather means finding herself.
Historians and genealogists will love this book but for everyone else, it'll take some getting used to. You'll enjoy "Finding Samuel Lowe," but you may also find it confusing.