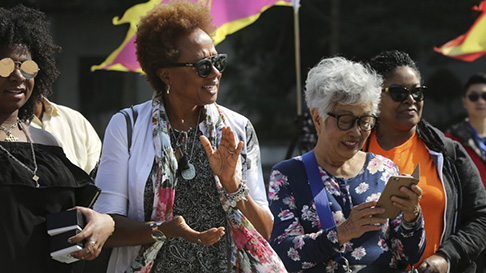 Firecrackers start the festivities to mark the 200th anniversary of the completion of Luo Shui He, a walled village in Shenzhen's Longgang district, in southern China.
--
After years of wondering about their roots, visitors from around the world descend on a Shenzhen village to celebrate the 200th anniversary of their ancestral home – and meet relatives for the first time.
A lion dance then welcomes visitors from the United States, Canada, Britain, Malaysia, Singapore and other parts of China, all of whom can trace their bloodline to Luo Ruifeng, who lived 2,000 years ago.
The celebrations, at what is today China's largest Hakka museum, also called Crane Lake Hakka Village, were initiated by a woman who doesn't even look Chinese.
"My mother looked Chinese and I looked black," says Paula Williams Madison, who was raised in New York's Harlem district. "My father was African-Jamaican, and so my mother was very out of place in our neighbourhood."
Madison's grandfather, Samuel Lowe (or Luo Dingchao), was from Luo Shui He and left China to work in Jamaica from 1905 to 1933. There, he had three children with two local women.
After retiring in 2010, at the age of 58, Madison, a former NBC journalist and executive, set out to learn more about her grandfather, travelling to Toronto, Jamaica, and finally Shenzhen in 2012, to meet the Chinese relatives she had traced. Her journey, with her two older brothers, was chronicled in a book and documentary called Finding Samuel Lowe: From Harlem to China, and while she promoted them, people contacted her in person and through social media. Some were relatives, and several were among the 50 or so people who attended the celebrations in Luo Shui He last month...