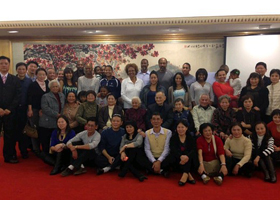 Growing up in New York's Harlem, Paula Williams Madison knew she had a Chinese grandfather, even though she had never met him.
When people found out, she says, most of them would make comments such as "Really? You don't look Chinese." Others would laugh. Even so, she always intended to track down her mother's father and learn the full story of her multi-ethnic Jamaican-Chinese family.
By the time she found them, her tiny American family had expanded to about 400 living members and a family tree that goes back 3,000 years. A new documentary tells the story of that journey and the discovery of a family that today extends from Shenzhen, China, to Kingston, Jamaica, and Los Angeles, California.
Ms. Madison, 62, spent much of her career at NBC, and retired a few years ago as an executive at NBC Universal, one of the first black women to achieve that rank. She says she waited until retiring to pursue her dream of reconnecting with her Chinese family.