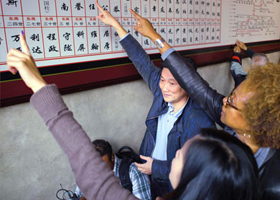 Siqi Lowe (left), great granddaughter of Samuel Lowe; Paula Williams Madison, granddaughter of Lowe; and Minjin Luo (right), grandson of Lowe finding the Lowe family tree in the family's ancestral village, Luoruihe village in Guangdong province. Provided to China Daily
She grew up black in Harlem not knowing anything about her ancestors or her family history, except one thing - she had Chinese blood in her veins.
Paula Williams Madison went on a quest around the world to be reunited with her long lost family members who were related to Samuel Lowe, her Chinese grandfather.
When Lowe immigrated to Jamaica, he married local resident Albertha Campbell who gave birth to Nell Vera Lowe Williams, Madison's mother. When Nell was an infant, her mother left Jamaica and moved to the US because Jamaicans were harassing her for being married to a Chinese man.
That was the last time she had ever seen her father.
"My mother said that she wished that she could have had a relationship with her father," Madison said. "When I had the time and the resources, I tired to fulfill the wish that my mother had. Even though she died in 2006, I knew that she would have very much liked it for her children to find the rest of the family."