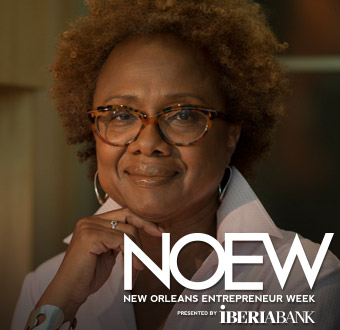 EVENT DETAILS
The Women-In-Business Challenge (WIB) is a business accelerator program for early stage businesses owned by female entrepreneurs. The WIB program empowers women in their entrepreneurial quests to "Go Bigger" in the pursuit of innovative, technology-driven, socially responsible, as well as concepts in male-dominated industries or traditional enterprises that provide needed resources for women and girls.
The program provides impactful business education and training, technical assistance, personal consulting , mentorship by seasoned entrepreneurs and peer networking to increase the ability of these early stage, women-owned enterprises to have the same performance potential as male-owned start-ups, creating economic and global impact. Four finalists compete for $10K in seed capital to aid them in expansion goals for their ventures during the New Orleans Entrepreneur Week conference.
FEATURED SPEAKER
PAULA WILLIAMS MADISON is Chairman and CEO of Madison Media Management LLC, a Los Angeles based media consultancy company with global reach.
In 2011, Madison retired from NBCUniversal, where she had been Executive Vice President of Diversity as well as a Vice President of the General Electric Company (GE), then the parent company of NBCU. During her 22 years with NBCU, she held a number of successful leadership roles, including President and General Manager of NBC4 Los Angeles, Los Angeles Regional General Manager for NBCU's Telemundo TV stations and Vice President and News Director of NBC4 New York.
Honored for corporate leadership and community outreach, Madison was named one of the "75 Most Powerful African Americans in Corporate America" by Black Enterprise Magazine in 2005 and included in the Hollywood Reporter's "Power 100."
She's been honored by Asian organizations as well, having been recognized in 2014 as one of the Outstanding 50 Asian Americans in Business and in 2015, she was honored by the East West Players and AARP with their Visionary Award and by the Chinese American Museum in Los Angeles with their Historymaker Award.
In 2013, Los Angeles Mayor Eric Garcetti appointed Madison to the Los Angeles Police Commission where she served as vice president until 2015. Madison is a Board Member of the Greater Los Angeles United Way and the California Science Center Foundation.
A native of Harlem, Madison and her husband Roosevelt reside in Los Angeles.