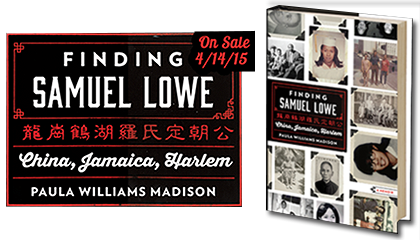 Paula Williams Madison's memoir FINDING SAMUEL LOWE: China, Jamaica, Harlem will be released in stores on Tuesday, April 14th. The book is published by Amistad and tells the moving story of former television executive Paula Williams Madison, a Jamaican–American woman who went in search of her mother's father, Samuel Lowe—and discovered her own Chinese roots.
"Not since I Know Why the Cage Bird Sings have I read a memoir so courageously committed to exploring the art and act of finding home. Finding Samuel Lowe is simply the most exciting, daring and brilliant memoir I've read in the 21st century."
—Kiese Laymon, author of Long Division and How to Slowly Kill Yourself and Others in America
"Madison vividly and poignantly recounts the struggles of her parents and grandparents as they faced the stigma of interracial bloodlines … A profoundly moving and revelatory memoir of far-reaching discovery and affirmation."
—Booklist
Downloadable press photos available on the Press Page under the IMAGES tab.