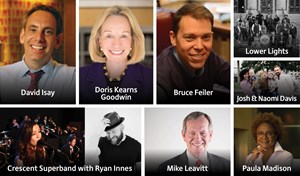 SALT LAKE CITY, Jan. 27, 2016 (GLOBE NEWSWIRE) -- RootsTech, the largest family history conference in the world, is looking forward to over 20,000 visitors over four days with an exciting array of speakers and entertainers, over 250 interesting and informative classes, a huge expo hall with more than 160 exhibitors. There is something for every level of family history—from the beginner to experienced. The three-day conference begins on Thursday, February 4, and goes through Saturday, February 6. For more information go to RootsTech.org.
The keynote speakers and offerings reflect the growing influence of family history. Today multiple generations of all ages are engaging through family storytelling and sharing memories within families using social media and an expanding array of new technologies and mobile apps. The opening session on February 4 will begin with Stephen T. Rockwood, who is the managing director for the Family History Department of The Church of Jesus Christ of Latter-day Saints and President/CEO of FamilySearch International.
Also featured is Paula Williams Madison who is chairman and CEO of Madison Media Management LLC, a Los Angeles based media consultancy company with global reach. After her retirement in 2011, Madison started doing research on her family lineage. She wrote the book and produced a movie Finding Samuel Lowe: China, Jamaica, Harlem in April 2015 about her experiences. A free screening of the movie will be provided on Wednesday, February 3.